meet the ladies
Welcome, here you can match the QR code found on your slippers to the location of the group of ladies who hand-crafted your unique pair. We believe in full transparency thus the importance of connecting people and makers. Each Chilote Shoe is one of a kind, so we encourage you to meet the ladies who crafted your pair and learn more about their unique culture and simple way of life in remote Patagonia.
frutillar
Frutillar is a quiet small town on the shores of Lake Llanquihue with magnificent views of the snow-capped Osorno Volcano. The Frutillar group is led by Sara Chavez, who makes sure that this amazing group of mothers and grandmothers enjoy and teach their children and grandchildren the traditional knitting techniques passed down through generations.

Meet the Ladies: Maria Lusmenia Torres, Maria Torres, Adela Santibanez, Eloisa Navarro, Ester Yancar, Daniela Huenulef, Carmen Barria, Marta Sanchez, Alejandra Paredes, Julia Ortega, Sara Chavez.
calcurrupe
Calcurrupe is located in "La Cuenca del lago Ranco", has rich forest ecosystems that are still virgin with native fauna, impressive waterfalls, large lake basins, and active volcanoes. Led by Cecilia Lehuey (featured in our video), this is our biggest group conformed mostly by Mapuche women who in part sustain themself growing their own organic vegetables, raising their domestic animals achieving a unique sustainable lifestyle.

Meet the ladies: Ubaldina Lehuey, Cecilia Lehuey, Marta Sanchez, Fabiola Burgos, Ema Marin, Olga Gonzalez, Paola Cardenas, Francisca Lehuey, Doris Cisterna, Paola Cardenas, Adriana Aguero, Teresa Vargas, Neli Cortez, Sara Sepulveda.
puerto varas
It is known as the Town of Roses and Volcanoes for its beautiful squares and privileged natural landscapes, views of several volcanoes and its magnificent Llanquihue Lake. The Puerto Varas group is led by Rosa Escobar who has been collaborating with us since the very beginning. This is our first group with whom we started this beautiful adventure. They have been integral in helped us reach out to more communities in nearby rural areas.

Meet the ladies: Camila Ojeda, Cristina Salvo, Norma Chihuey, Nury Riveras, Rosa Escobar, Maria Elena Levin, Sara Chavez, Teresa Vargas, Juana Aguero, Yaneth Rain, Mali Rain, Olivia Mancilla.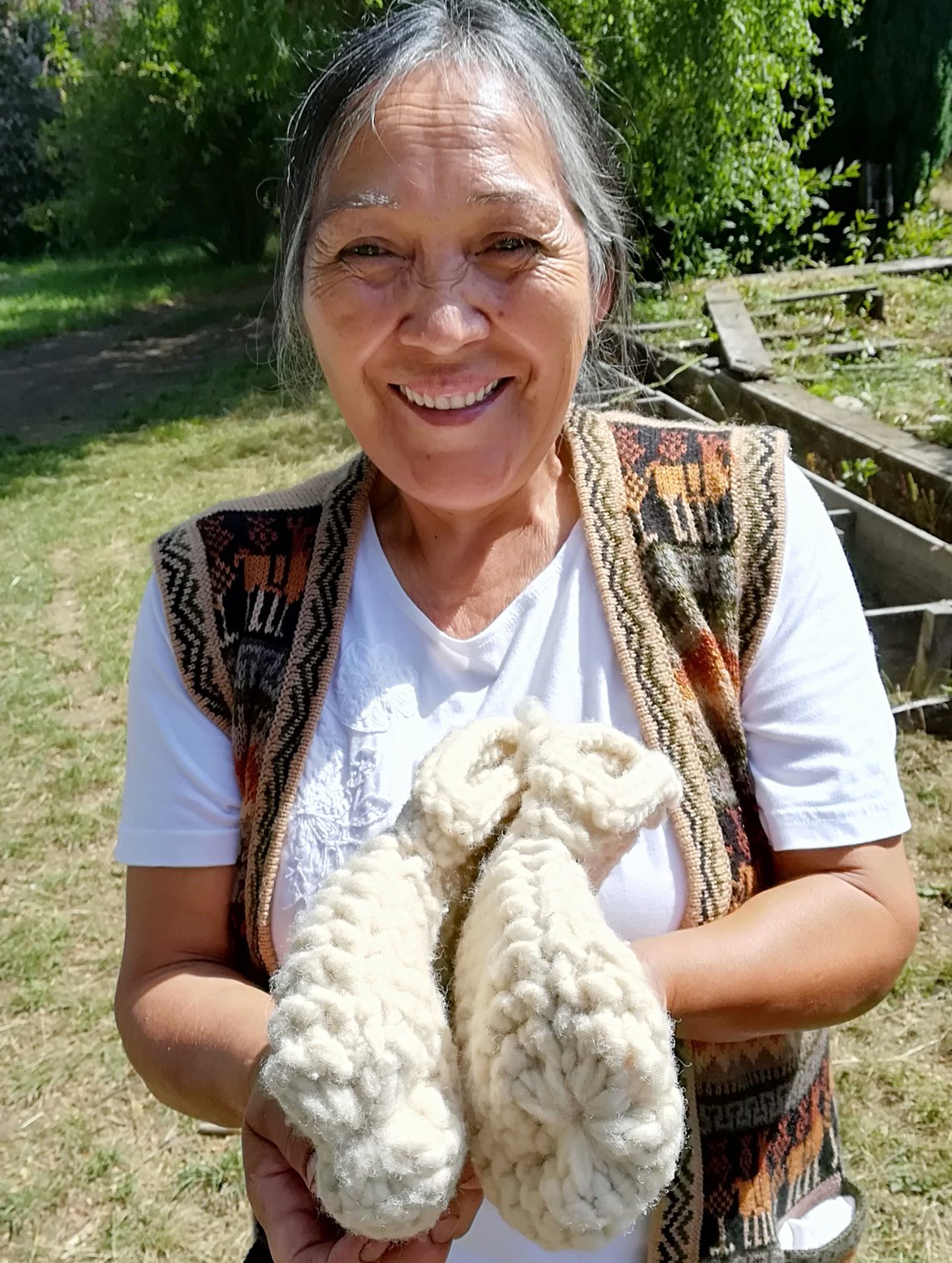 from patagonia with love
A People & Planet Positive - Slow Craft Model - Powered by Indepent Artisan Women